Banner by [pixish]
Founded 26th of February 2005
See SFAN to nominate an art piece ;)

Current Feature

-


Previously Featured Artists
Current amount of featured artists: 164

02-11-14/ 20-11-2014
[
Kalma
]
Squish-Squash

22-10-14/ 02-11-14
[
Sagacious Turkey
]
Self-portrait

Sunny Featured Art Archive
*
SFAA
: List of featured artists
*
SFAA 1-50
: Feature 1 to 50 (26-02-05/ 29-09-06)
*
SFAA 51-100
: Feature 51 to 100 (29-09-06/ 19-08-07)
*
SFAA 101-150
: Feature 101 to 150 (19-08-07/ 03-05-08 // 23-02-10/ 22-03-10)
*
SFAA 151-200
: Feature 151 to 200 (22-03-10/ 20-11-14)
Since 2005 I featured 144 artists in the course of 3 years (an average of one feature per week). After a hiatus of 2 years I restarted the project for a period of almost 8 months with 18 features (1 feature almost every 2 weeks). The last feature ended on the 24th of October 2010.

Miscellaneous
Disclaimer:
The art in this project is featured and displayed with permission of the artists. The rights to the works remain to the artists, do not repost or alter their art without their permission.
The artists who agree to be featured here, must be aware that they can't take their art back from the internet. The art is stored in an archive that will always serve as proof that it belongs to the artists.
Mission
The mission of this wiki is to share some of the fine art on Elftown with anyone who takes an interest in it.
It's a small gallery to browse around, get (more) exposure and meet each other.
If you're looking for constructive criticism you're in the wrong place. The features are picked because I like them, without any specific background of artistic expertise.
Whether or not an art piece will be featured is totally up to me and will not be put up for discussion.
My goal is to have a new feature every three (3) to five (5) weeks, but due to possible unforeseen circumstances, this number may vary.
If you want to create your own featured art wiki, after seeing this wiki, please at least let me know about it.
I enjoy seeing the idea being used and I also enjoy seeing more wonderful art :)
Therefore other art wikis may also be linked here.
Other featured art wikis:
- Elftown's Official
Featured Art
/ since 28th of May 2003 - present
-
Akhirah's Featured Art
by [
akhirah
]/ since 30th of November 2005 - 28th of January 2006
-
Photography Weekly
by [
Firenze
]/ since 18th of October 2006 - 2nd of March 2008
-
Shutter Masters
by [
Lothuriel
]/ since 7th of April 2009 - 26th of October 2009
Also take a look at:
-
The Elfwood selections
by [
iippo
]/ since 5th of September 2006 - 23rd of February 2008
Credits:
- [
skylie
] for Elftown's Featured Art, the pioneer!
- [
Ittai
] for contributing to the idea and making the badge =)
- [
pixish
] for the wiki-banner :D
- [
Linderel
], [
Jitter
] and [
Morningstar Rising
] for continuously searching art and nominating on
SFAN
*^^*
- All the artists who let me feature their art ^_^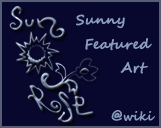 Logo by [Elph]
**SFAN: Nominate an art piece!**

Go or return to:
-
SFAN
: Nominations
-
SFAA
: List of featured artists
*
SFAA 1-50
: Feature 1 to 50
*
SFAA 51-100
: Feature 51 to 100
*
SFAA 101-150
: Feature 101 to 150
*
SFAA 151-200
: Feature 151 to 200