UnfrgvnGmrSktch
(Life is somethin else ain't it?

)
Name: Death be thy name Life be thy curse
Sun-kissed
this is my nephew Frank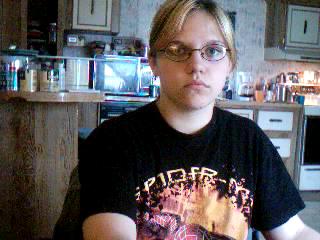 me
where the hell did that shirt go??
dude!!! you can see my scar!!!
Elftown titles and orders
Index-pages in the wiki: (
help
)
Description:
To Tara Rosenburg. William's wife.
[
I know this might sound more than a little crazy but I believe, I knew I loved you before I met you, I think I dreamed you in to life. I knew I loved you before I met I have been waiting all my life.

]This song was played for our wedding.
"I knew I loved you." By:Savage Garden.
But not this one...
[
So Deep That It Didn't Even Bleed And Catch Me Off Guard. Red Handed Now I'm Far From Lonely. I Sleep And Still See You Lying Next To Me

]"All that I've Got" by: the Used
---
I'll never forget you. Your gone from this world but you are not gone from my heart. R.I.P.
"R.I.P." By:Sherrin M. Tredwell
[Years have come and gone.
Many tears have been shead
I look up at the sky
And ask "why?"
Maybe i'll never know.
maybe i will who knows
for days i cried myself to sleep.
how ong will this pain last?
i can feel your presance now
i just wish i could getsome answers
to the many questions
i have
one day i'll get them
for now dont worry about me
just rest in peace.
no more pain or fear,
your up above living in peace]

[
IM EMO AND IF YOU HAVE A PROBLEM WITH IT, NO ONE SAID YOU HAD TO LIKE ME OR BE MY FRIEND, SO FUCK OFF!!!!!

]
---
MCR Fans and Lovers
CHECK IT OUT! ITS ALMOST DONE!
---

looks at the pics. thats what i look like.
i now share this with my twin. we have no pics of her but shes real pretty just ask [Bleeding Love]

AND GUYS IF YOU THINK ABOUT CYBERING WITH MY TWIN I WILL KNOCK YOU CLEAN THE FUCK OUT!
---

William's goth name: Freak
Willow's goth name: Midnight Fantasy

http://www.necroticobsession.com/gothname.html


---

[

this is my Queen

] [addicted to the drug of lust]. [

Do me a favor. Serve her.She rules over ALL!!!!

]



---
<center>

join The Emo Clan



join crazy teapots!! for all thoses who think sanity is over rated!

---
---
kewl stories
My wicked weird friends
---



are you happy now?


[I've made my self sick crying over you,
are you happy now?
I sat and stared at the puke for a while,
are you happy now?
Your gone, i dont know where you ran off to now but,
are you happy now?
Are you happy now
knowing that i made myself sick?
I dont know whos worse off,
Me or you?
You pick Father.
You have a sick mind,
You have that damned drug
I have a torn heart and a ripped soul.
But wait thats your fault.
Well father im trying to get you off my mind,
But its not working.
I dont want to lose you too.
That would hurt more.
Well bye for now.
I'll see you whenever.]

---
click it you know you wanna
click, click, click.
Missing: </b>
Missing: </i>
Missing: </u>
| | | | |
| --- | --- | --- | --- |
| Age: 22 | Year of birth: 1989 | Month of birth: 5 | Day of birth: 20 |
Fantasy race personality:
Duck
21°22.014'N 38°11.070'W
Music
country
goth
punk
rock
techno
Sexual preference:
both sexes