Waste of time
(read my diary, and take my poll please..

)
Email: Hellagothic@yahoo.com
Name:
Hello..so i would like it if you'd say something to me instead of just looking..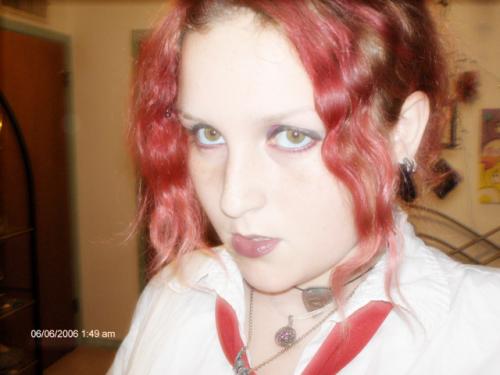 Drawing missing.
Elftown titles and orders
| Street child | Adventurer | Travelling bard |
| --- | --- | --- |
Description:
"I'm right there beside you whispering in your ear...reach out and touch me...i can taste your fear...i will not whip you softly...i long for wrenching pain...as you cry and plead...i screw you in the rain..."
Happy, happy,
joy, joy,
i'm a kinky sex toy,
bite me, beat me, make me bleed
cuz kinky sex is all i need.
--------------
-------------------------------
[

To love someone, is to give them the power to destroy you and trust them not to.

]
The above and below are from [Thirst for the Darkness] i love you sooo much...
[DRINK MY BLOOD,
MAKE IT LAST,
IN THE DARK,
SLOW OR FAST.
FREAKY SEX,
MAKE IT HURT,
DON'T STOP NOW,
IT COULD BE WORSE.
PAIN IS FREEDOM,
A RUSH OF LIFE,
TO FEEL IT YOU KNOW,
YOUR TRULY ALIVE.]

[

TOUCH ME, I'M A FREAK...

]
---------------------------------------------

SO MANY MORTALS
SO LITTLE TIME
I KNOW WHAT YOU WANT
SO COME GET IN LINE

LET ME SHOW YOU
WHAT YOU NEED
FOLLOW ME
GET ON YOUR KNEES....


WHAT COMES TO MIND WHEN YOU HEAR...
Rubber: Ducky
CD: MARILYN MANSON
Bed: sex
Paper: my feelings
Run: oh shit..cops..
Candle: passion
Mouse pad: squishy...
Sweatshirt: hides me
Door: locked to my heart
Pictures: heart break
Flowers: they die
Deodorant: Red Zone
Pencil: poetry flowing
Sex: between people that care
Radio: 102.5





I asked you if you thought i was pretty, you said no...
I asked you if you would want to be with me forever, you said no...
I then asked you, if i left you, would you cry, and you said no...
I had heard enough...
As i walked away, tears streaming down my face, you grabbed my arm and said...
You're not pretty, you're beautiful...
I don't want to be with you forever, i NEED to be with you forever...
And I wouldn't cry if you left me, I'd DIE!!



Easily Amused

Follow these rules to maintain your sanity
1. At lunch time, sit in your parked car with sunglasses
on and point a hair dryer at passing cars. See if they slow down.
2. Page yourself over the intercom. Don't disguise your voice.
3. Every time someone asks you to do something,
ask if they want fries with that.
4. Put your garbage can on your desk and label it "in"
5. Put decaf in the coffee maker for 3 weeks. Once everyone
has gotten over their caffeine addictions, switch to espresso.
6. In the memo field of all your checks, write "for sexual favors".
7. Finish all your sentences with "in accordance with the
prophecy."
8. Don't use any punctuation marks
9. As often as possible, skip rather than walk.
10. Ask people what sex they are. Laugh hysterically after they
answer.
11. Specify that your drive-through order is "to go".
12. Sing along at the opera.
13. Go to a poetry recital and ask why the poems don't rhyme.
14. Put mosquito netting around your work area. Play a tape
of jungle sounds all day.
15. Five days in advance, tell your friends you can't attend
their party because you're not in the mood.
16. Have your coworkers address you by your wrestling name,
Rock Hard Devon.
17. When the money comes out the ATM, scream "I won!", "I won!"
"3rd time this week!!!!!"
18. When leaving the zoo, start running towards the parking lot,
yelling "run for your lives, they're loose!!"
19. Tell your children over dinner, "Due to the economy, we are
going to have to let one of you go."


I LOVE BITCHES....

CAN YOU HONESTLY SAY THAT YOU KNOW WHAT IS IN THE DARK? I DIDN'T THINK SO...MAYBE IT'S THAT YOU FEAR WHAT YOU KNOW...BUT I CAN HELP YOU WITH THAT...IF YOU DARE TO SPEAK TO ME...
ALL I WANT IS YOUR SOUL...AND YOUR BLOOD...

DO YOU SERVE A PURPOSE OR PURPOSLY SERVE?
THIS IS FROM...[Thirst for the Darkness] hehe IF YOU FUCK WITH ME..HEHE...HE'LL FIND YOU AND KILL YOU...(oh and he'll pee on you too)

I am: nothing..to anyone..
I hurt: because of others...
I want: to be seen
I hate: guys who throw away the best thing in thier lives for nothing...girls too
I cry: when i want
I fear: idk
I hope: for hope
I feel alone: now.... i lost ....nvm...
I waste: everything
I talk: all the time...
I break: things when i'm mad...
I watch: the world....slowly...
I remember: the feeling i get when i'm with a certain person...
I sleep with: nothing....
I hide: my weakness
I drive: nails through my ears....
I burn: anything i can
I breathe: try not to.
I miss: his touch when i'm alone
I feel: depressed
I know: what real pain feels like
I dream: to one day die...
I await: his arrival
I live: on a planet...
I die: NOW.



I Will Save A Life

I CARVED YOUR NAME INTO A BULLET
SO EVERYONE WOULD KNOW
THAT YOU WERE
THE LAST THING
GOING THROUGH
MY HEAD



We Belive

[

ITS TRUE

]

[

everything you THINK you know about me is true. i am an EVIL. twisted devil-worshipper. i sacrifice kittens and babies. then i dance NAKED. covered in their BLOOD. around a bonfire, calling upon the great old ones to smile the blessed and raise the WICKED to immortal supremacy on earth. plus, your slut of a daughter GANGBANGS me and my friends on your dinner table in exchange for CRACK COCAINE. i hate puppies, flowers, apple pie, mom, and everything american, especially the PRESIDENT. but, most of all i hate YOU with your murderous passion you could barely understand with your limited intellect. everything you FEARED about me is true.

]
[

Oh, and i know where you live

]
i got this from one of my best friends...i love you sheri....so does mikey...and glen..believe it or not..lol..



Denied Love

I DRAW A PRETTY PICTURE
I DRAW IT WITH A TWIST
I DRAW IT WITH A RAZORBLADE
I DRAW IT IN MY WRISTS
AND WITH THIS MAGIC PICTURE
A FOUNTAIN WILL APPEAR
AND WITH THIS MAGIC FOUNTAIN
MY TROUBLES DISAPPEAR.



Animal cruelty


SEX IS A SENSATION CAUSED BY TEMPTATION WHEN A GUY STICKS HIS LOCATION INTO A GIRLS DESTINATION TO INCREASE POPULATION FOR THE NEXT GENERATION YOU GET MY EXPLANATION OR DO U NEED A DEMONSTRATION?



Support Gay Marriage


********************************************

A pretty picture
In my head
It begins to fade
And now i'm dead.
I see the lining
Of your face
You cry and ask
To take my place.
If only we
Could press rewind
To change what happened
Go back in time.
I watch you move on
Going day by day
Things have changed
In every way.
You're way more happy
Now that I'm gone
Forget about me
Life will go on...



Cat Lovers

[

Poem by:

] [herherh]
[Her hair was up in a pony tail, her favorite dress tied with a bow.
Today was "Daddy's Day" at school, and she couldn't wait to go.
But her mommy tried to tell her, that she probably should stay home.
Why the kids might not understand, if she went to school alone.
But she was not afraid; she knew just what to say.
What to tell her classmates of why he wasn't there today.
But still her mother worried, for her to face this day alone.
And that was why once again, she tried to keep her daughter at home.
But the little girl went to school eager to tell them all.
Of a dad who's never there, a dad who never calls.
There were daddies along the wall in back, for everyone to meet.
Children squirming impatiently, anxious in their seats.
One by one the teacher called a student from the class.
To introduce their daddy, as seconds slowly passed.
At last the teacher called her name, every child turned to stare.
Each of them was searching, for a man who wasn't there.
"Where's her daddy at?!" she heard a boy call out.
"She probably doesn't have one," another student dared to shout.
And from somewhere near the back, She heard another father say, "Looks like another deadbeat dad, too busy to waste his day."
The words did not offend her, as she smiled up at her Mom and looked back at her teacher, who told her to go on.
And with hands behind her back, Slowly she began to speak And out from the mouth of a child, came words incredibly unique.
"My Daddy couldn't be here, because he lives so far away.
But I know he wishes he could be, Since this is such a special day.
And though you cannot meet him, I wanted you to know.
All about my daddy and how much he loves me so.
He loved to tell me stories he taught me to ride my bike.
He surprised me with pink roses, and taught me to fly a kite.
We used to share fudge sundaes, and ice cream in a cone.
And though you cannot see him.
I'm not standing here alone.
Cause my daddy's always with me, even though we are apart I know because he told me, he'll forever be in my heart"
With that, her little hand reached up, and lay across her chest.
Feeling her own heartbeat, beneath her favorite dress.
And from somewhere in the crowd of dads, her mother stood in tears.
Proudly watching her daughter, who was wise beyond her years.
And when she dropped her hand back down, staring straight into the crowd.
She finished with a voice so soft, but its message clear and loud.
"I love my daddy very much, he's my shining star.
And if he could, he'd be here, but heaven's just too far.
You see he was a fireman and died just this past year.
When airplanes hit the towers and taught Americans to fear.
But sometimes when I close my eyes, it's like he never went away."
And then she closed her eyes, and saw him there that day.
And to her mother's amazement, she witnessed with surprise.
A room full of daddies and children, all starting to close their eyes.
Who knows what they saw before them, Who knows what they felt inside Perhaps for merely a second, they saw him at her side.
"I know you're with me Daddy," to the silence she called out.
And what happened next made believers, of those once filled with doubt.
Not one in that room could explain it, for each of their eyes had been closed..
But there on the desk beside her, was a fragrant long-stemmed pink rose.]







| | | | |
| --- | --- | --- | --- |
| Age: 17 | Year of birth: 1989 | Month of birth: 7 | Day of birth: 11 |
Fantasy race personality:
Elf
Elftownworldmap missing.
Place of living:
USA-Texas
Town:
I'm walking right beside you...feel me take your place...
Elfwood URL:
Cut me open...
Fanquarters URL:
Drain my blood....
Wyvern URL:
Stopping for nothing
Home-page URL:
Does no good.....
Weblog URL:
GOVERNMENT IS JUST A FANCY WAY OF SAYING BETTER THAN YOU...
Favorite drawing objects
| anime | demons | dragons |
| --- | --- | --- |
| fairies | horses | magic |
| sex | strange | vampires |
Computer interests
art
chat
email
graphics
information seeking
music
programming
strategy games
video
webcam
web design
Music
| blues | goth | grunge |
| --- | --- | --- |
| heavy metal | house | jazz |
| punk | rock | techno |
Other interests
animals
anime
art
card games
cars
cats
chasing the preferred sex
cooking
dancing
dogs
drinks
electronics
fantasy
fashion
film
horses
motorcycles
party
physics
plants
poetry
porn
role playing
singing
scifi
shopping
theatre
travelling
watching sport
whisky
wine
writing
Sexual preference:
both sexes
Elftown – the social site made for fans of scifi and fantasy
Visit our facebook page