Premise: Spazznik is an energetic new recruit foot soldier for the noble family of Strongheart. The only problem is he's been assigned to guard duty on the outer wall of the city.
---
---
Welcome to the official wiki of Spazznik! :)
The Spazznik comic you see below is a slowly developing and thrown together product (basically, when I have extra time to spare) of an experimental journey I'm embarking on in both comical writing and cartoony artwork that is set in a world with both medieval and high fantasy themes. Prepare yourself for the snowballing effect of classic boredom and pure wackiness launched by a catapult of adventure and mayhem! :)
- Derek "Hendercrazy" Henderson
Latest News!!!
Spazznik finally moves forward at an amazing slow pace! Woohoo! :P
---
---
Newest Spazznik comic!!!
Click on the strip to view it full size!
Volume 1, Episode 3
Spazznik Archive: Read Spazznik from the beginning!
Spazznik Volume 0
(Introduction to Spazznik)
Spazznik Volume 1
---
---
Other [
Hendercrazy
] wikis:
Art of Derek Henderson
---
---
Other comic places to visit on Elftown: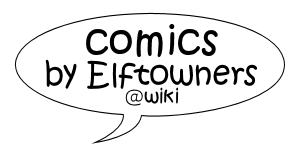 ---
| | |
| --- | --- |
| | Show these comments on your site |