Page name:
black arrow tavern
[Logged in view]
[RSS]
2009-04-24 19:07:43
| | | |
| --- | --- | --- |
| # of watchers: 33 | Fans: 0 | D20: 12 |

Welcome once again to the Black Arrow Tavern my friend, where the food is rich and drinks are plenty. Yet mind you, tis not a place to leave your purse lying about, and be wary of the goblins that haunt below and you'll be fine. Yet if yer looking for tales of adventures and treasures far off, than you've found the right place. Yes it has been a while, and there have been changes, but the dust is being cleaned off and the chairs straightened so if you need a place to stay for the night, here it might be
We offer the finest collection of drinks in elftown, as well as the the most excellent meat dishes. So pull up a stool or find a table and make yer self at home. If you are planning to stay a while there are plenty of rooms to choose from. Each with warm beds and a nice fires. Breakfast is at 11 and the bar never closes.
the rules
Now all we ask is you pay yer bill, and keep your squables at the door. There will be none of that here now. Also keep yer filthy mutts off the wenches or you might end up with an arrow to the back...we tend to keep an eye on our own here.
Also we have new openings and changes here at black arrow tavern:characters. So if your interested at playing more indepth roles- here is the place to go.
staff on duty: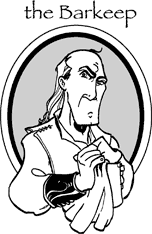 [
travs the bean
] the barkeep;
or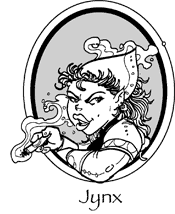 [
Igorina
]aka Jynx
So feel free to ask for anything.
the drinks
Ale........................2 copper
Mead.....................1 copper
Eldenberry.............1 silver
Rock Ale.................1 copper, 1 silver
Black Root Ale.........2 copper
Fire Water...............3 copper
Goldberry Wine........1 gold
Brandy Wine............3 silver (sort of rare)

Todays Special: all you can eat
Roast Mutton, Bread, and Roasted Vegtebles 2 silver

Rooms per night
the floor.............1 copper
common room.....3 copper
room 2 beds........5 copper 1 silver
private room........3 silver
to the other rooms of the tavern
Black Arrow Tavern:Upstairs
the 1st floor Map is done!
Black Arrow Tavern: 2nd Floor
2nd floor is done
important: this story is played through out many rooms- things happen in other places at the same time as in the inn and if you are not in the room you miss out on the adventure or danger:) so as more rooms open up we would encourage you to keep to story or stories going- because it all does not happen on the main floor:)

working on the cellar- which leads to the sewers(coming)
the map of the main floor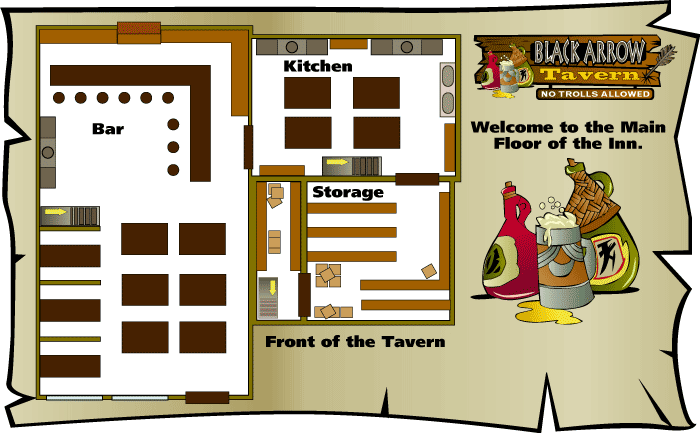 this will help you get around the inn- working on the second level and maybe the third as well- be patient
Legend to come...
all the tables are drawn without chairs- sorry- time issues:) and the storage room is off limits;) as well as the kitchen for the most part cause [
Rennie
] will prob beat you down like an old rug if she catches you there
if you need to buy stuff and gear for that next adventure or get a potion or two go here- i hear [Kileaiya] might be hiring once she gets her store in order:)
black arrow tavern:warehouse
character: who's who
black arrow: character sheet
come to the inn and you can create your own character- mind you as it grows more occupations will open up:) - than post your character here
black arrow tavern:characters
If you want to advertize the tavern here's the small graphic and the link.
</img:stuff/bla
ckarrowsmall.gif>
black arrow tavern



**** i've been asked if anyone can join- the answer is always yes- just roleplay smart- a lot of people are not fans of the super warrior- or character that has it all- it makes things unrealistic- the tavern is in the poorer section of town- the main hall is open to all- get a room and that's were the adventure begins- just keep it clean.

we'll come up with a smart roleplay guide in a bit- but until then have a drink if you have the coin

Travs the bean

Black Arrow Tavern:Outside





http://www.beanleafpress.com/store/



http://www.beanleafpress.com/store/



we will delete a post if you break character- use the mail system to chat- not here- do not break character

god like powers and magic
If you want to be the most powerful kid on the block than this wiki is not for you- we will get rid of those and delete those post that we find fit this.We are looking for fun, realistic play, where you use your wits rather than your powers.... SO leave them at the door- Magis is allowed but in the inn it is greatly reduced and it will have damaging effects at time- (i am a big fan of friendly fire)




---
| | |
| --- | --- |
| | Show these comments on your site |