Goodbye K...
My dear friend and partner in crime [
Kyrinn
] lost her battle with cancer on November 30, 2012. She was an amazing, beautiful, imaginative, and talented person. I will miss her every day for the rest of my life. Love you K, sweet dreams...
Photo taken by Amber Telling, Spring 2012 and posted here with permission.
Trying to read here...
Friends... they never know when to just stfu and let you read your book. XD
My character Reinard Latchoktve back when he was still in 'middle school', aka the Jyrynna city equivalent to highschool, trying to read his class spell book during a break but his buddy Tathar (who belongs to [
Kyrinn
] btw) just ain't interested in peace, quiet and study.
All I can say is wow... not only did I manage a second drawing of Rei, who is notorious about not letting me draw him, but I also included another character AND a background!! OMGWTFBBQ!!
Ink? Not likely. Colour? Maybe but don't hold yer breath. ;)
Elftown Badges:















These mean I am on the Elftown Council, I am one of the town Guards, Veterans,
Featured Image Bosses Veterans, Great Grand Master Builders, Saint Valentine Poets, Saint Valentine Painters, Donors of Funds,
Featured Painters on Mainstreet, EG Artists, Portraitists, Donors of Art, Photographers, a participant in the Halloween Costume competition 2009, one of the Reference Photographers, a Halloween painter for 2009, one of the ET Artists and one of the ET roleplayers
Elftown titles and orders
Index-pages in the wiki: (
help
)
Description:
Welcome to Yuri's house.

From [iippo].

Thank you muchly!
Wife and best friend of [Acerbus], stay at home mom of two beautiful children and still able to get some time in writing and drawing. I love anime - man I wish I could draw as consistantly as that though I am getting better at it!! - and AD&D as well as the odd text RP of course. Oh and don't forget playing a round of Halo now and again. So what if I'm beyond 30?? I'm still a geek after all!
BECAUSE ALL DUNGEON MISTRESSES HAVE THEIR MINIONS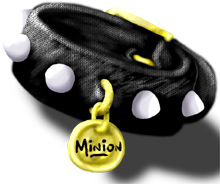 You know you want one...
ASK FIRST!!
MINIONS...
BADGES FROM BUDDIES!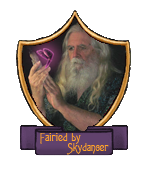 The first badge is 'cuz I am one of the Dirty Old Bags and the second means I'm one of [Skydancer]'s Fae Muses! Thank you!!
Oh and in case you hadn't figured it out on your own, [Kyrinn] gave me a badge proclaiming my proud pervertedness.

CURRENT PROJECTS

Well... current as in created during the last year or so...

I really don't have anything on the go atm. Shame on me really. Don't worry, I'll get something here eventually. ;)
PROJECTS I'VE YET TO GET TO OR FINISH

Tattoos for my sister & brother in law
UPDATE:
Gargoyle tat lineart done, orchid tat sketched

Character drawing for [
wicked fae mage
]

Entry for the
Color Jaysen Contest

Entries for
Kyrinn's RP Character Art Contest

LOTS of character drawings from shared RPs with [
Kyrinn
]

Drawing of my dark elf Rei as a Jedi

Editing a gazillion pages of RP notes into novel format

Graphic novel project based on Officer Wolf

I think that's all for now...

WIKI FUN
Check 'em out! I guarantee you won't be disappointed!
AWESOME NON-OFFICIAL CONTESTS
REFERENCE WIKIS
Oh... and just in case you didn't know this already::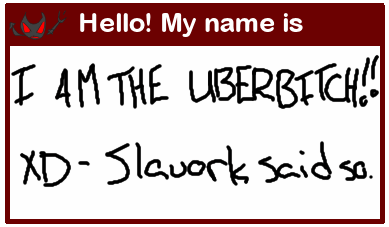 Hello! Stickers by [stuffAEAmade]
Thank you! Come again!
| | |
| --- | --- |
| This member is a fan of these wiki-pages: | |
And of 11 more wiki-pages.
List them
| | | | |
| --- | --- | --- | --- |
| Age: 48 | Year of birth: 1974 | Month of birth: 2 | Day of birth: 13 |
Fantasy race personality:
Elf
43°3.450'N 81°57.864'W
Place of living:
Canada - Ontario
Elftown crew wannabe:
Yes
Favorite drawing objects
| anime | dragons | elves |
| --- | --- | --- |
| horses | vampires | warriors |
Computer interests
email
graphics
music
web design
Windows
Music
adult pop
alternative
country
eurodisco
goth
heavy metal
house
pop
progressive metal
rock
techno
Other interests
| animals | anime | card games |
| --- | --- | --- |
| crime stories | dancing | fantasy |
| fishing | history | motorcycles |
| party | role playing | singing |
| scifi | slacking | smoking |
| theatre | wine | writing |
Sexual preference:
both sexes