edheldae shadow-elf
(OMGYAY!!TOTHEWINDOW!TOTHEWALL!

)
Email: orlando_iz_my_precious@yahoo.com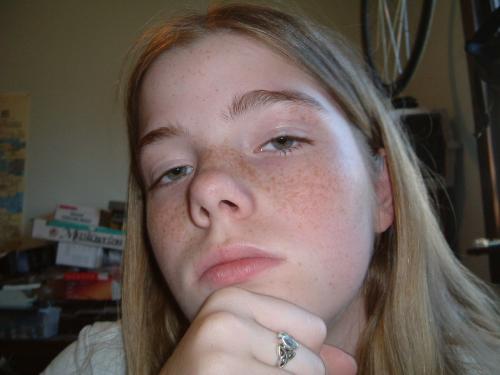 Hullo, Nigel. Yes, my hair is kinda blue in this pic.
Drawing missing.
Elftown Badges:

This means that I am one of the Saint Valentine Poets!
Elftown titles and orders
Description:
I love Lord of the Rings, both the books and movies. I am currently 13 and in the 8th grade, though that is bound to change sooner or later. My favorete courses are French and English, and I think I've got them both down pat. My parents both died when I was 8, and then I was adopted, after which my adoptive father died in a car crash and my adoptive mother re-married an American, which is why I'm speaking American English so gosh-darn well. I used to go crazy over Orlando Bloom, but now my interests are waning and I am spreading out to random extras and guys in National Geographic. I am writing a series with my friend called the Tales of Anarion series. It better get published. I love acting, but hate my drama teacher. I like drawing, but I can't find any of my good pictures so it looks like I'll have to hope my magic pencil hasn't busted. It's worked for my writing!!
Fantasy race personality:
Elf
58°35.826'N 23°51.012'E
Place of living:
Travelling around
Known languages
Estonian
French
Hebrew
Quenya (Tolkien language)
Computer interests
action games
Basic
chat
email
information seeking
music
use communities
Windows
Music
alternative
classical
folk music
new age
Other interests
| animals | art | cats |
| --- | --- | --- |
| cooking | fantasy | film |
| horses | poetry | religion |
| role playing | travelling | writing |
Sexual preference:
opposite sex
Elftown – the social site made for fans of scifi and fantasy
Visit our facebook page