This is not a person, but the computer that runs Elftown.
More pictures of me naked are on
Elftron 2.0
(Hardware for the 2007-11-12 upgrade)
Current software
Upgraded to Roxen Webserver 5.1.185 (with Pike 7.8.534) 2011-04-18.
Hardware and software after the 2007-11-12 upgrade
Athlon 64 X2 6400+
Intel's best processors were a better, but not enough difference to spend time on searching for good motherboards
MSI K9N SLI Platinum
It's a competent and cheap motherboard. It's hoped that the two PCIe-slots can be used for solid state disks if they arrive sometime in 2008. MSI's documentation sucks as usual, but nothing really bad except the BIOS-version documentation (which BIOS version supports what processor and what to expect if it's an unsupported processor), some errors and a total lack of Linux-support from MSI (Linux of course has 100% support for this motherboard. It's just MSI that need to get into its head that we Linux-users also don't want to need to find a floppy-disk to upgrade the BIOS.).
8 GB of RAM - Crucial DDR2 PC5300 4096MB CL5 (Kit w/two matched DDR2 PC5300 2048MB CL5)
Cheap working RAM. Not much to say about it. Too bad it's not possible to put more than 8 GB into any motherboard that is affordable and good. Elftown benefit a lot from more RAM as the database searches becomes hundreds or thousands of times faster when the data is in the RAM, and Elftown has a problem with that the searches makes Elftown non-responsive even though Elftown is no where near any general capacity problem.
3 * Seagate Barracuda 7200.10 SATA2 500 GB
OK and proven harddisks. Probably not the fastest around, but they score about average on everything and comes with 5 years of warranty. Much cheaper than bigger disks, and Elftown needs more disks almost every year.
Update 2008:
2 of the disks are broken now and work too bad to be used. Probably because they feel down during operation. Two new harddisks where bought: Samsung SpinPoint F1 1TB SATA2 32MB 7200RPM and Samsung SpinPoint F1 750GB SATA2 32MB 7200RPM. They worked extremely bad until I put a fan onto them, but works just fine after that.
Software - Mandriva 2008.0
It's the 586-version for some reason. The x86-64 version would probably been preferred, but some things are slower and some faster so it's unknown what's best.
Runs with Roxen Webserver, MySQL and Heddate's social networking site software.
See
Elftown technology
for more!
Dreams...
The database engine would really want some solid state disk of some kind. If
www.fusionio.com
can get their ioDrive to the market in 2008, that would be great (As it's a new company, I fear that they simply fail to deliver). But there are more and more SATA2-SSDs from many vendors coming too.
Hardware and software before 2007-11-12
Opteron 252
Motherboard (
MSI K8D Master3-133-FA4R
- This is the worst buy in history. Expensive RAM, need of another really expensive processor to get more RAM, or use of very slow RAM. And the crap-motherboa
rd was expensive too, and has no second hand value at all.)
A few disks.

The software was an upgraded Mandrake Linux 10.0.


Even older hardware

An Intel(R) Pentium(R) 4 CPU 3.40GHz, have 2 071 736 kB RAM, two 116GByte ATA-disks, one 29GByte ATA-disk and one 187GByte ATA-disk for backups.

Was running Mandrake Linux 10.0, and Roxen Webserver 4.0(cvs).

BTW: Thank [Hendercrazy] for my name. He won the Name That Computer! contest.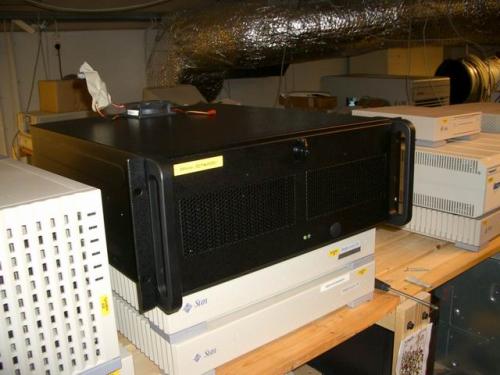 This was me, the black beauty when I was at the Linköping University. In 2008 I moved to [Hedda] to be beside www.elfpack.com/Krill