Ideas for
New Communities
?
(Note: I get a lot of relations-requests. I like that, but I turn down the most of them because I don't know the person. Please try again later.
Note 2: Don't ask me questions about how Elftown works! You will get much better and quicker answers in the Elftown Newbie Forum.
Note 3: Don't write "May I ask you something?". Say what you have to say and provide all information directly if possible.
Note 4: Try to write correct English (or Swedish, or Russian, German...)! I hate irc-language and text without punctuation marks.
)
I am the Elftown mayor. I also helped out Elfwood's other machines and is still a little involved, but not directly.
I say what I think so if I should say something nice for a change, it is always the truth.
Lilo!
I live with my girlfriend on the picture above. More of her on
Free to use Lilo images
(Image made by [
a clockwork orange
])
You can find me on
Facebook
as [
@fb577212311
] and there is a Facebook group for Elftown: [
@fg2388633706
]
And finally a song, sung to the tunes of Monty Python's Flying Circus's Lumberjack-son
g, with a few changes:

o/~ I'm the Elftown boss and I'm OK.
I work all night and sleep all day

I kill a bug, I eat it up
I go to lavatory
On Thursdays I go drinking
And have a lot of beer

Chorus:
He's the Elftown boss and he's OK.
He works all night and sleeps all day

He kills a bug, he eats it up
He goes to lavatory
On Thursdays he goes drinking
And has a lot of beer

I kill a bug, I make a new
I like to pick up women
And search their Elftown houses
And write them dirty words

He kills a bug, he makes a new
He likes to pick up women (who doesn't)
He search their Elftown houses
Eh, what!?!
And dirty words! That's shocking! That's sick!


(That can unfortunately be heard on: http://www.musmakers.com/2.Elftown%20boss )


Oh... And:



This is pink



And for the Lilo-fans out there:
free to use Lilo images

And I can win Elftown-stuff: Nationalities Photography Contest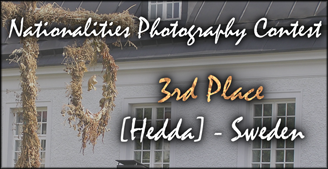 I promise that I didn't threaten them to win that third place... Really! ;)



[TheRogue] has awarded me a Master Bug eater badge!

old links

Various-2013-02-03
PiratePreParty
geografitentor2
Piike2013-02-26
GreenBeer
Mixedmix
ExcursionOmberg
Valborg2013
SOF2013Thursday
SOF2013Cortege
SOF2013Saturday
FireBad_RydRuins
2013-06-07
MyFlat2013-06-16
LjusdalSummer2013
Double Rainbow
MixedStuff2013-08-23
Talk like a pirate day evening
SlumberParty
RydBurn3
Slave Leia
HeddaTesting2
hmmmmm