2009-04-10 23:24:42
| | | |
| --- | --- | --- |
| # of watchers: 5 | Fans: 0 | D20: 12 |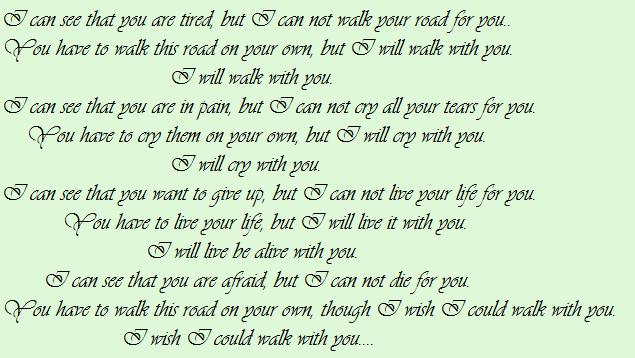 Four years ago, my dad got the diagnosis cancer coli, with spreading to his lungs. He fought a battle that could'nt be won. My dad went through several treatments, he's allways been so strong! I tried to stay positive, but somehow nothing helped. 11th of Nowember 2008 we got the terrible news that the cancer had spread to his brain, 3 tumors. He still fought so bravely, but 14th of March 2009 he had to give up. After a long, hard struggle he died at home. The pain of the loss is overwelming. One month ago today, I lost one of the most important persons in my life. I still dont know if I'll stay sane, if I'll be able to live with this loss.
This page is mainly for people who has someone close who has cancer, for people who has this terrible disease themselves and for people who lost someone dear. Here you can share your stories, try to cheer each other up, speak with people who know what you're going through.
The Stories of Life
I will try to answer the questions that you have, I will ofcourse answer to both private messages and postings on this page. Noone should go through such a hard time on their own.
---