Page name:
Featured Art 2007-05-10
[Exported view]
[RSS]
2008-12-09 04:28:31
| | | |
| --- | --- | --- |
| # of watchers: 2 | Fans: 0 | D20: 3 |
---
[~Altopia~]
10 May 2007
Nominator: [
farawaygone
]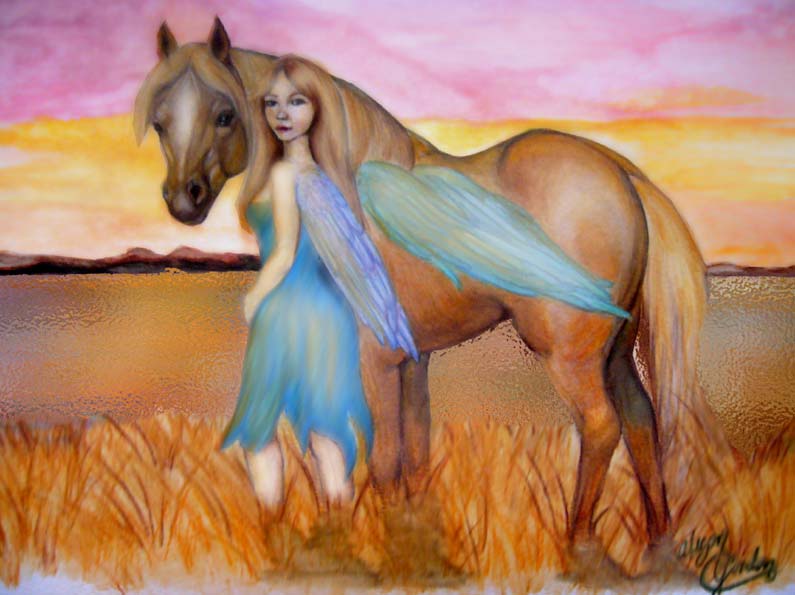 'A Dream with Pegasus'
According to [
farawaygone
], this piece is "the kind of picture I would love to hang in my baby's room for its peace and serenity qualities. I love it." And we the
Featured Image Bosses
agree with her!
The warm colours of this piece are both soothing and comforting to the viewer, and the tranquil expressions of the subjects calming. The splashes of vibrant blue on the wings and gown of Pegasus and the young woman draw your eye to the subjects without being overpowering. The use of watercolours in this piece give it a soft, dreamlike feel and the shimmering water adds a 'splash' of realism without disrupting the mood.
An excellent composition and wonderfully done piece from the multi-hued skies of the sunset to the wonderfully realistic pose and shading on the Pegasus. Bravo [
~Altopia~
]!!
Be sure to check out [
~Altopia~
]'s other gorgeous works at
~Altopia's~ ~art~
!!
-- [
Kyrinn
], [
Rook
], [
Yuriona
] and [
Teufelsweib
]
back to
Featured art Archive
Return to
Featured art
Back to the Featured art
---
| | |
| --- | --- |
| | Show these comments on your site |