] and I did for some coworkers' wedding gift.
Description:
[Evilmonk] protects this house!
.... and when used consistently and correctly, is highly effective in preventing pregnancy and STDs.
---
Leave your disbelief at the door...

---
Experience the HaPpiNeSs...The Official Elftown Hero... EXPERIENCE IT NOW, MONKEY!
Written, pencilled and inked by super mad genius, [Evilmonk]
---
Featuring the wacky hijinks of [Perplexity] and [Evilmonk]
---
updated 9/5/06
Perplexity's Pixtures - Old Stuff
Drawings by me can be found here.
Photos taken by me (duh)
Misc. stuff as it pertains to me.
---
Some people are like Slinkys.... Not really good for anything, but they still bring a smile to your face when you push them down a flight of stairs.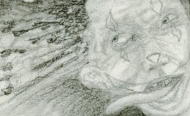 ---
per·plex·i·ty
noun
Etymology: Middle English perplexite, from Middle French perplexité, from Late Latin perplexitat-, perplexitas, from Latin perplexus
1 : the state of being perplexed : BEWILDERMENT
2 : something that perplexes
3 : ENTANGLEMENT
per·plex
transitive verb
Etymology: obsolete perplex, adjective, involved, perplexed, from Latin perplexus, from per- thoroughly + plexus involved, from past participle of plectere to braid, twine
1 : to make unable to grasp something clearly or to think logically and decisively about something <her attitude perplexes me> <a perplexing problem>
2 : to make intricate or involved : COMPLICATE
synonym see PUZZLE
---
Elftownworldmap missing.