Page name:
best of best artists on elftown
[Logged in view]
[RSS]
2011-08-31 04:57:59
| | | |
| --- | --- | --- |
| # of watchers: 57 | Fans: 0 | D20: 20 |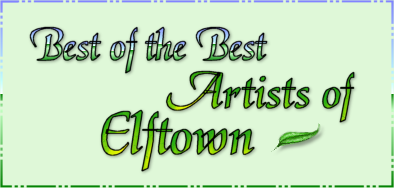 This is the best of the best: Do you think you know someone whom is one of the well renown artists here on elftown? Do they participate in the art contests? Do you adore their work, or creative style? Then here is where you can nominate them.
There will be no badges since this is not a contest, this is a wiki that lists the best of the best. Don't add messages behind the names for it clogs up the list. If you want to express why you put them down, then do it in the comments list. Feel free to add a name to the list if you feel the person is an awesome artist. There is no discrimination
.

I was asked an important question by [Leara]: Are people allowed to add an artist?
My reply to this was:
Only if the artist is in your opinion deserving of the title: no stick figure art, no cut and past jobs. Simply we are looking for the best of the best artists; people who, even if they're not super skilled, show originality and creativity, participates in elftowns contests and overall has a good attitude about this site. I don't want to see people in here whoms overall message is 'fuck you' or 'fuck off', for they do not show an attitude that represents the best of the best.

Since this seems to be an issue amongst some of the people whom visit this wiki, I will make it a bit more clear: do not add yourself to the list, for that defeats the purpose of best of the best.
-[teptep]



[TheRogue]            [Adnama]                  [Paul Doyle]                    
[teptep]              [Lerune]                  [Calico Tiger]
[liiga]               [Katie Staines]           [Bad_Badtz]
[Sidhe]               [WestFactor]              [Dr.No]
[prisoner#81378]      [crimson nymph]           [Melindo]
[Asrun]               [akhirah]                 [Malnu]
[allenp]              [Caelicorn]               [dilandau]
[Adaman]              [Bliz]                    [werethylacine]
[dshwshr55]           [machineman]              [blaz]
[Link04]              [Chi'mera]                [xDyingx Valentinex]
[Gorrem]              [PaladinKnight]           [Belthazor]
[carmen]              [catwings]                [tankerman]/[unnamed]
[Amerthyst]           [Dae]                     [Crystal Dragon]        
[Bean5]               [marose]                  [T_Zora_R]
[the crazed artist]   [CookieDough]             [Shreya]
[Tumulty]             [Perplexity]              [Magus Ferox]
[Bahamutroy]          [Kaimee]                  [spiritee]
[Skydancer]           [amrazon]                 [nokturA]
[chycia]              [Bunny of The Moon~]      [Farewell]
[Nulltorque]          [Apfelkeks]               [Silvestris]
[Mordigen]            [Fire fae]                [blackphoenix]
[hji]                 [Yncke]                   [(eeob)]
[a clockwork orange]  [Laureanna]               [Wised Up]
[Sungmina]            [SerenityBug]             [Vanalyn]
[Fire-n-Ash]          [Draconica]               [Chi]
[Dark Adherent]       [Qibossa]                 [travs the bean]
[Foxdecano]           [Dumpysaurus]             [Zardra]
[Wolfeyes]            [selardorart]             [top gun]
[Elandain]            [Leara]                   [Sana]
[smakeupfx]           [Lunnie]                  [---deleted account---]
[the Indigo]          [Black cherry]/[Thallium] [Lu]                   
[Hummingbird]         [Tiger Shark]             [Savien]                  
[Avatar]              [Levoton]                [LauRRa]                        
[Charybdis]           [glayshard]               [Hazel]                 
[evilhamster]         [eleihna]                 [Sunny Silverunicorn]   
[blue_mirage]         [Dark Wizard]             [Anvikit]
[Rennie]              [Maketsu]                 [Mixednutt] [pixish]         
[May-lea]             [Ocean Soul]              [Elph]
[sprattel_dvaerg]     [yesidiaz]                [Glace*]
[Athanatos Nivalis]   [Allthatjazz]             [Dil*]
[LadyMoon]            [AquaBuggy]               [Yuriona]
[Duredhel]            [Jeccabee]                [zacula]
[Evilmonk]            [Elisha Kelly]                [raynesprite]
[Mom]                 [The Hidden Happiness]    [Zab]
[Urmando The Elfling] [nathie]                  [Remos Page]
[KimoN]               [Pantheranegra]           [NOOOPE]
[eurayo]              [Kyrinn]                  [To the Welkin]
[jaderii]             [crowfeather]             [Thistlewood]
[Ryo-Oni]             [Morphea]
[jaraden]             [Mortified Penguin]!

---
People who Have left ET on this list
---
| | |
| --- | --- |
| | Show these comments on your site |